Rotherham town centre trees 'systematically' vandalised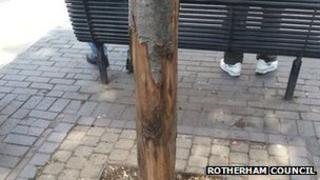 "Determined vandals" have targeted dozens of trees in Rotherham over the past six months, the council has said.
Bark has been stripped from 28 of the town centre's 73 ornamental cherry, rowan and crab apple trees.
Some have been damaged so badly they will have to be removed, but tree services manager Chris Hezcko said they were "struggling to replace any" because of the £2,000 cost per tree.
Members of the public have been urged to be "vigilant" and report any damage.
'Absolutely sickening'
Mr Hezcko said: "We're not sure who's doing the damage, but we have in the past had cases where people have been encouraging their dogs to strip the bark off the trees and they do that as a form of training to strengthen the jaw.
"The cost, about £2,000 per tree, includes a number of operations including felling the original tree, excavating about a metre and a half cubed of soil from the tree pit, refilling that and then the trees that are planted are semi-mature - between five to six metres in height - costing around £900-£1000 each."
Councillor Gerald Smith said: "It is absolutely sickening and has become a real problem.
"This is not minor damage, this is someone, or some people, systematically stripping the bark from the trunks of these trees, which results in them dying off and having to be removed."