Man bailed as search for missing Erika Kacicova continues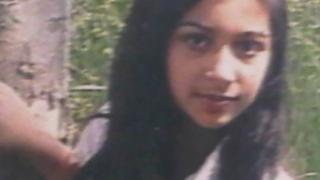 A 22-year-old man arrested on suspicion of child abduction has been released on bail as police continue searching for a missing teenage girl from Sheffield.
Detectives have pleaded with 13-year-old Erika Kacicova to get in touch after she failed to return home on Monday.
The teenager's family was growing increasingly concerned for her welfare, said South Yorkshire Police.
The man, who is from Bradford, had handed himself in to police on Friday.
'Out of character'
Erika was last seen leaving her home on Poole Road, Darnall, at 16:00 BST on Monday.
Detectives believe she may now be in Bradford, possibly staying with friends.
She is described as being about 4ft 11in (1.5m) tall, of slim build with long, dark brown, straight hair and brown eyes.
She was said to have been wearing blue jeans, a pink polo shirt and silvery-grey jacket.
Det Insp Helen Tate, of South Yorkshire Police, said Erika's disappearance was "out of character" and that she had not been missing for such a long period of time before.
"I really want to get the message out there to Erika that I want her to get in touch with police.
"I need her to let us know she's safe and well and she's in no harm. She can come to us and and we will take care of her and make sure she's all right."
Det Insp Tate emphasised the teenager was not in any trouble.
"There's nothing she's done wrong. We really just want her to come home and make sure she's safe."