Man arrested over Erika Kacicova disappearance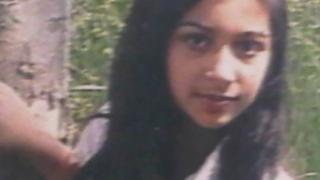 Police hunting for a missing 13-year-old girl from Sheffield have arrested a man on suspicion of child abduction.
The 22-year-old man, from Bradford, handed himself in on Friday after hearing about appeals to find Erika Kacicova, South Yorkshire Police said.
Erika was last seen leaving her home on Poole Road, Darnall, Sheffield, at 16:00 BST on Monday.
South Yorkshire Police declared her disappearance a "critical incident" on Friday and urged Erika to get in touch.
Police in South and West Yorkshire are continuing to search for the teenager.
'No positive sightings'
Erika is about 4ft 11in (1.5m) tall, of Eastern European appearance, with a slim build and long dark brown straight hair and brown eyes.
She was last seen wearing blue jeans, a pink polo shirt and silvery-grey jacket.
Police said the 13-year-old could have travelled to West Yorkshire as her family has friends there.
Det Insp Helen Tate, from South Yorkshire Police, said: "Erika has now been missing for almost five full days and we haven't had any positive sightings or confirmed contact from her.
"She is a young girl, away from home and our main aim is for her to return safe and well."
Det Insp Tate also made a direct appeal to the teenager to get in touch.
"Erika, if you are reading this, please let us know you are okay.
"You aren't in trouble. We just need to know you are safe."
Anyone with information about the teenager's whereabouts is asked to get in touch with police.