Narrow window for Don Valley Stadium rescue bid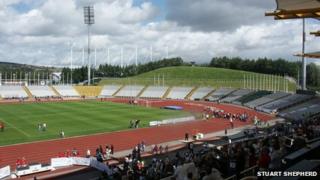 Campaigners hoping to save Don Valley Stadium from closure will learn the outcome of their bid to protect it just five days before it is due to close.
Action group Save Don Valley Stadium (SDVS) has applied to have the site listed as an asset of community value.
If successful, the group would be given the opportunity to buy the venue where athlete Jessica Ennis-Hill trains.
A decision on whether to list the venue will be taken by Sheffield City Council on 25 September.
The council said that, after seeking legal advice, it did not believe there was a conflict between being the landowner and the authority responsible for considering the nominations.
Outlining the SDVS bid, athletics coach Rob Creasey said: "We have a very clear vision of what we want to do. We want multi sport in here, we want performing arts, and we want to bring the big events back to Don Valley.
"We believe that when we put together our bid it is going to make money.
"We realise that once this place goes no-one is going to build another one."
'Seamless transfer'
Sheffield City Council voted to close and demolish the stadium in April to save £700,000 a year operating costs and repair works estimated at £1.6m.
Plans have been put in place to refurbish Woodbourn Road Athletics Stadium, with Sheffield Hallam University running the site.
However, concerns have been raised over the standard of the Woodbourn Road facility.
Mr Creasey said the site was not "capable of hosting a potato growing competition".
A council spokesman said: "We have received an application and will be meeting the applicants to explain the process in more detail shortly."
Earlier this month it said there would be a "seamless transfer" between the two facilities.
To date, 360 venues have been listed across the country as community assets, including Manchester United's Old Trafford stadium and Oxford United's Kassam Stadium.