Sheffield pub death review calls rejected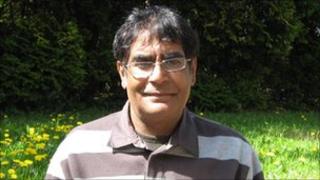 No charges will be brought over the death of a man attacked in Sheffield unless "new and compelling evidence" emerges, prosecutors have said.
Kamlesh Ruparelia's family called for a review after a coroner found he died from injuries suffered when he was hit with "great force" in a pub.
A man initially charged over the death was found not guilty when the Crown Prosecution Service halted the case.
Despite the post-inquest calls it said it would not bring a new prosecution.
Mr Ruparelia, 55, died in November 2011, four days after he was hit once in the head during a row in the White Rose pub, in Handsworth Road, Sheffield.
He was struck during an altercation over a racist comment made by Kieran Beresford.
Coroner 'in dilemma'
Mr Beresford told police, before Mr Ruparelia's death, he had "snapped and lashed out" then later raised the matter of self-defence saying he had not wanted Mr Ruparelia to get into trouble.
The Crown Prosecution Service (CPS) halted its prosecution of Mr Beresford when new evidence was uncovered that "undermined" the case against him.
On Monday coroner Chris Dorries recorded a narrative verdict at an inquest into Mr Ruparelia's death, but said he was in a "dilemma" as he was bound by law not to make findings "which are in contradiction of the outcome of earlier Crown Court proceedings".
He said: "This is very relevant because Mr Beresford appeared before the crown court charged with an offence of manslaughter but the prosecution offered no evidence. Mr Beresford was thus found not guilty of that offence."
Recording his verdict, he said: "Kamlesh Ruparelia died on 1 November 2011, at Royal Hallamshire Hospital, in Sheffield, of head injuries received in consequence of a single punch to the head delivered with great force during or immediately after an altercation (that was primarily between others over a racist remark) at the White Rose public house on 28 October 2010."
'Serious failure'
Following the inquest Mr Ruparelia's family said Mr Dorries's comments had left them questioning the CPS decision not to prosecute Mr Beresford.
They said: "We believe that a jury should have had the opportunity to consider and come to a conclusion on the evidence in this case and we do not understand why that was not permitted to happen.
"We have now heard the evidence given before the coroner and we understand that decision even less.
"We believe that a failure to prosecute this case to trial represents a serious failure by the CPS to demonstrate its commitment to protect the public."
Senior District Crown Prosecutor Chris Hartley said the CPS was aware of Mr Dorries' comments.
He said the CPS had worked closely with South Yorkshire Police to bring a prosecution but felt there was no realistic prospect of a conviction.
"After very careful consideration, taking into account this new evidence, we concluded that this was no longer the case and halted the prosecution," he said.
Mr Beresford was found not guilty of manslaughter.
As a result of a change in UK law which saw a ban on people being tried for the same crime twice being scrapped the Court of Appeal can now quash an acquittal and order a retrial only when "new and compelling" evidence is produced.