Boxer 'Iron' Hague painting prompts museum-bid to buy it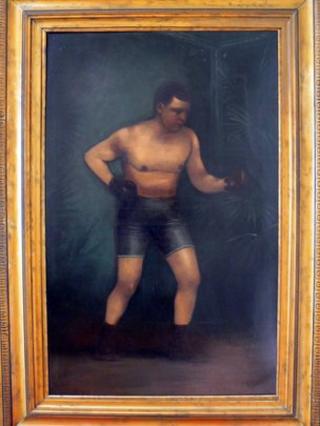 A public fighting fund has been set up by a museum to raise money to buy a 20th Century painting of a British heavyweight boxing champion.
Doncaster Museum Service wants to buy a painting of James William 'Iron' Hague of Mexborough, South Yorkshire.
The work was probably painted in 1909 to celebrate Hague's heavyweight boxing title, said the museum.
Neil McGregor, museums officer, said: "It's a good painting but it's the subject matter, he was a local hero."
The museum needs to raise "a four-figure sum" to buy the 4ft x 3ft (1.2 metre x 1 metre) oil painting, owned by a private vendor.
The museum is applying for a grant to help with funds to get the painting on a permanent basis. It is currently on loan at Cusworth Hall Museum, near Doncaster.
Hague was British heavyweight boxing champion between 1909 and 1911.
'Made of iron'
He acquired his nickname, Iron, after being hit over the head in a playground spat.
He wrapped his school scarf over the wound and held the scarf in place with his school cap.
When a teacher asked him to remove his cap and saw the size of the wound the teacher said "you must be made of iron, lad" and the name stuck.
Hague met Gunner Moir in the ring of the National Sporting Club to fight for the English heavyweight boxing title, in April 1909.
Hague won with a knock-out in under three minutes.
It was reported that around 2,000 people stood outside the Sheffield Telegraph newspaper office in Mexborough waiting for news of the fight, and thousands lined the streets for his homecoming.
Hague defended his title three times, before he was defeated by Bombadier Billy Wells in 1911.
Hague fought in at the Somme and Passchendaele in World War I and afterwards suffered from the effects of mustard gas.
He later worked as a barman in local pubs and died in 1951.