Sheffield building society manager jailed for £250k theft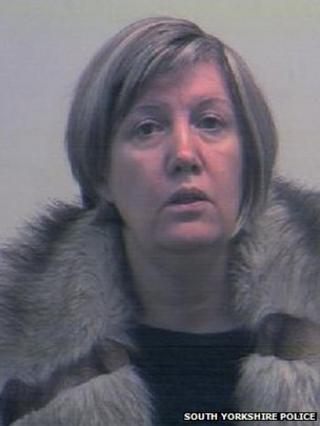 A building society branch manager has been jailed for four years for stealing almost £250,000.
Denise Salter, 57, pocketed the money over 17 years while working at the Yorkshire Building Society, Sheffield.
She submitted false mortgage applications and stole from customers, including her own family and friends, Sheffield Crown Court heard.
Salter, of Lidgett Lane, Barnsley, had admitted 12 charges of theft, fraud, false accounting and forgery.
She pleaded guilty at Sheffield's magistrates' court in July when she asked for three other similar offences to be taken into consideration.
The offences were uncovered by South Yorkshire Police's economic crime team following an investigation by her employers.
Determined and dishonest
Salter was ordered to pay £2,200 in compensation to one of her victims.
Det Sgt Carl Saxton said Salter told police she stole some of the money to help her sons after they got into financial difficulties.
He said: "Some of the simple [thefts] were from an account which had £30,000 in and within a few withdrawals she would simply have taken that amount straight out of the account.
"Others she was approached by family and friends and asked to invest money on their behalves. She did put the money into an account, but then withdrew it and created fictitious documents, like savings bonds, to give the impression she had invested that money."
Salter's victims have all been compensated for their losses.
A spokeswoman for Yorkshire Building Society said: "As a financial services provider we rely on the honesty and integrity of our staff.
"In this rare instance, the offences were complex and required a high degree of planning, determination and dishonesty to organise, carry out and conceal from a small number of close family and friends.
"The society reported the matter to South Yorkshire Police as soon as concerns were raised, and we have carried out a full investigation to identify the small number of accounts affected."