GB swimming coach questions Sheffield's 'too fast' pool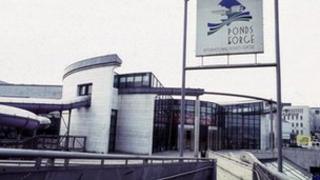 British Swimming's head coach has called for the ending of selection trials at Sheffield's Ponds Forge after claiming the pool is "too fast".
Bill Furniss said he wanted qualifying events for the Olympics and other competitions switched to other venues.
His comments came after the Great Britain team won just one medal at the World Championships in Barcelona.
An Olympic medallist said the pool's depth and the consistency of the water could allow people to swim faster.
'Really fast times'
Mr Furniss speaking on BBC Radio 5 Live said: "I'll be honest I don't want trials there.
"I would rather use slower pools, it's a fast pool.
He added: "I think as a selection venue in the future we will question that."
Stephen Parry, who won a bronze medal for the 200m butterfly at the Athens Olympics in 2004, said that Ponds Forge was a victim of its own success.
"All our swimmers who go there post really fast times," he said
"They then can't replicate it later in the year, and they think that is working against them.
"It seems to have the perfect depth at Ponds Forge of three metres, because it's all to do with the resistance in the water.
"Also, there is the consistency of the water. Because it's got ozone and oxygen in there it's very buoyant, so that allows people to swim faster as well."
'Swimming records set'
The pool was opened in 1991 and it has hosted trials for the Olympics in 2004 and 2008 as well as for the Commonwealth Games in 2010 and the World Championships in 2009 and 2013.
Richard Apps, general manager at Ponds Forge International Sports Centre, said: "We have a great relationship with British Swimming and are looking at hosting a number of large events over the next year.
"Sheffield still is, and will always be, one of best places for swimming in the country. It has always been identified as a fast pool hence the number of British and World records set here."