Sheffield's Tramlines festival sees audiences fall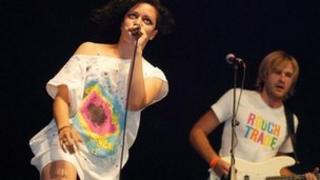 Sheffield's Tramline music festival has seen a drop in audience numbers after introducing an admission fee for the first time.
Festival organisers said that 95,000 people attended the three-day event, compared to 150,000 in 2012.
This year's event, held on 19-21 July, was a mix of free activities and charged £6 per day to see certain artists.
The festival, now in its fifth year, takes place in venues across the city.
Festival director Sarah Nulty said the event would continue, despite a £40,000 loss this year.
'Not alarmed'
She said: "We did anticipate a change in attendance because of the ticket charge so we're not alarmed numbers are down.
"We know the people of Sheffield would prefer something for free, but with funding and sponsorship cuts this just wasn't possible.
"Tramlines is a huge operation and costs a fair bit to put on in terms of security, medical staff, experienced event organisers and policing, so creating a new revenue stream was a must."
The festival features local bands and international acts.
Artists appearing at this year's festival included The Selecter, Dutch Uncles and New Young Pony Club.
Previous years have seen Ms Dynamite, Echo and the Bunnymen and Heaven 17 perform.