Sheffield restaurant immigration raid leads to five arrests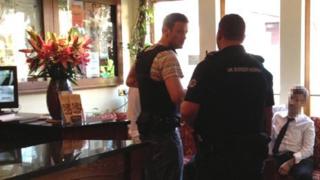 Five men have been arrested by immigration officers at a restaurant in Sheffield city centre.
Three were held on suspicion of immigration offences and two on suspicion of employing illegal workers.
The raid at Shapla in Cumberland Street on Thursday was part of a national operation targeting illegal working, the Home Office said.
A local charity which works with refugees said the action could be viewed as "counterproductive".
Jim Steinke, chief executive of the Sheffield-based Northern Refugee Council, questioned whether high profile raids were an effective way of dealing with the problem of illegal workers.
"We need a considered approach to this," he said.
"I do think that there is an issue about it creating impressions of racial tensions being stirred up."
Simon Cahill, deputy director for Home Office immigration enforcement, said the raids were intelligence-led and the Home Office had a duty to target businesses that employed people illegally
He said he hoped people would "see a benefit" in the fact it addresses not only illegal immigration but employers who evade tax, treat workers badly and make them work in "less than hospitable" conditions.