Sheffield City Council told to shelve 'sneaky' bin tax plans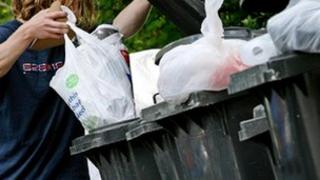 A council proposing a "bin tax" on privately rented student accommodation blocks has been ordered to stop by Communities Secretary Eric Pickles.
Labour-run Sheffield City Council had approved a policy enabling it to charge to collect waste from landlords.
Conservative MP Mr Pickles said it was "the worst form of short-term thinking" and accused the council of using students as a "revenue generator".
The council, however, said it was addressing an "unfairness" in the city.
Private student accommodation blocks are exempt from paying council tax and do not pay business rates, both of which help fund waste collection.
However, recent regulation changes have been used by councils to introduce a new waste collection charge.
'Sneaky councils'
In an open letter to all local authorities, Mr Pickles, together with fellow Conservative, Environment Minister Lord de Mauley, said: "We are writing to provide clear guidance that such charges should not be made.
"If such charges... continue to be made, we are prepared to amend secondary legislation to ensure that the practice is stopped."
Mr Pickles added: "Sneaky councils attempting to make a quick buck by charging landlords of hard-up students for their bin collection is the worst form of short-term thinking.
"The subsequent increase in fly-tipping and backyard burning could cost them more in the long run and undermine community relations."
Similar proposals have also been put forward by councils in Bristol and Manchester.
Sheffield councillor Jack Scott, cabinet member for environment, waste and streetscene, said the cost of collecting the waste would be "in the region of £200,000" and said he hoped the charge would not be passed on to students.
He described Mr Pickles' standpoint as "disappointing" and blamed government-imposed cuts for the council exploring the proposal.
He added: "For me, there's a really important point about fairness.
"Why should the people of Sheffield subsidise, not the students, but those huge multi-million pound companies for us to take their waste away for free?"