Don Valley Stadium: University to run replacement site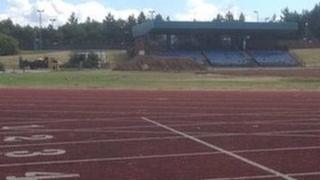 Sheffield Hallam University is to run the city's replacement stadium when Don Valley closes, the BBC has learned.
The city council told BBC Radio Sheffield it was working with the university to agree a lease to run the Woodbourn Road stadium.
Don Valley Stadium is to be demolished in September as part of the council's £50m budget cuts.
Jessica Ennis-Hill's coach said she could be forced to train outside Sheffield after Don Valley closes.
'Fantastic opportunity'
The council said work was under way to get the athletic track and field ready at Woodbourn Road, which is expected to open on 1 October.
It announced it was closing the Don Valley Stadium to save £700,000 a year operating costs and repair works estimated at £1.6m.
Plans were announced to reopen the smaller Woodbourn Road stadium as a new home for athletics in Sheffield.
It was closed in 2011 and the council estimated the cost of refurbishing the Woodbourn Road stadium at £150,000, with a £70,000 a year running costs.
Sheffield Hallam University said the stadium would be used for elite sport, university athletics and public use.
Richard McGloin, assistant facilities director at Sheffield Hallam University, said: "This is another fantastic opportunity to create a first class facility for our students to use, but also the public and wider community.
"We're already looking at all the events that were previously down at Don Valley Stadium - all the schools events - and we're looking to move as many of those down here as possible, once we know we've got the lease secured."
Mr McGloin admitted Woodbourn Road lacked the "infrastructure and the grand stands that Don Valley's got", but he said the site had a better track than Don Valley Stadium.
Toni Minichiello, Jessica Ennis-Hill's coach, said he thought the Woodbourn Road stadium was "unlikely" to meet a "standard that would cater for all the athletic events".
He said the running track was up to standard, but claimed the facilities for javelin throwing and other parts of the heptathlon were not good enough and could force Ennis-Hill to seek alternative training venues.