Sheffield plastics factory fire: Crews may be at scene for days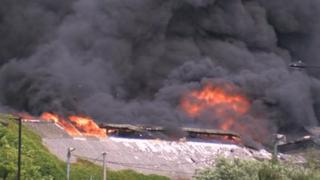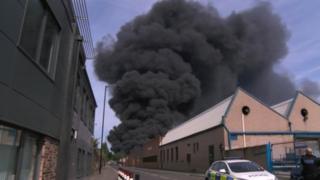 Crews may have to remain at the scene of a huge factory fire in Sheffield for several days, the fire service has said.
The blaze destroyed a building containing about 20 tonnes of plastic at the Sheffield Reclaim Ltd plant in Attercliffe on Sunday afternoon.
At its height, a plume of smoke was visible for at least 20 miles (32km).
Thirty firefighters were still at the site tackling hotspots within the wreckage.
The damping down operation was likely to continue throughout Monday and "possibly later into the week", a South Yorkshire Fire Service spokesman said.
Investigations into the cause of the fire would not start until it was completely extinguished.
The fire service said the smoke cloud had now dispersed and air quality tests conducted in conjunction with the Health Protection Agency showed there was no cause for concern.
Road closures close to the scene of the fire remain in force on Effingham Road, Bernard Road and Worthing Road.