Stocksbridge Leisure Centre damage a 'major blow' to group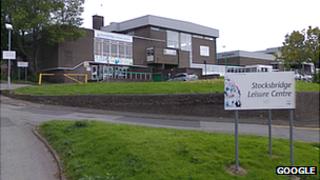 A group hoping to take over a Sheffield leisure centre is faced with a new hurdle after learning it needs repairs which could cost £40,000.
Stocksbridge Leisure Centre was shut in April as part of a £50m programme of cuts by Sheffield City Council.
The council and campaign group 4SLC have agreed a deal allowing the group to take over and reopen the facility.
However, surveyors have said there is a serious problem with the concrete structure supporting the pool.
The group said the news was a "major blow" and meant reopening the pool was impossible in the short term.
'Come too far'
Fay Howard, from 4SLC, said a detailed quote for the repair work had been commissioned and fundraising events would then be organised.
She said: "We are not giving up. There's massive will in Stocksbridge for this to happen.
"We have come too far."
The next fundraising event organised by the group is a raft race at the Peak Pursuits Underbank Activity Centre on 21 July.
The council warned in January it was to end its £400,000-a-year subsidy to the leisure centre in March.
While campaigners won a reprieve to keep the centre open for an extra month to allow 4SLC to formulate a business plan to secure its future, it was finally mothballed on 30 April.
A petition against the closure had earlier attracted about 1,500 signatures.
Last month 4SLC and the council announced they had reached a deal which would see 4SLC take the site over, with some initial financial support from the council.