South Yorkshire Police helicopter grounded for repairs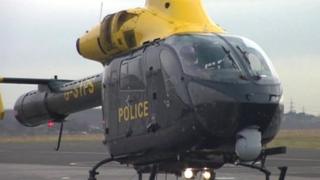 A police helicopter has been grounded for five months due to "substantial mechanical faults", a force has said.
South Yorkshire Police said the helicopter was undergoing extensive repair work in Gloucester.
The force said it also needed to recreate the aircraft's logbook which had "gone missing".
The new National Police Air Service (NPAS) has based a temporary replacement aircraft in Sheffield since it took over air support on 1 April.
South Yorkshire's helicopter is supposed to provide cover across the county for 10 peak hours a day, with off-peak cover provided by neighbouring NPAS bases in West Yorkshire, Humberside and Derbyshire.
But it has not been in the air since 28 January.
Supt Simon Verall said the problems were discovered at its annual service.
"When we went to NPAS in April we were required to give them a serviceable helicopter, so we are still responsible for the repair of the aircraft," he said.
"We have to get all the parts from America and some of the parts have had to be sent back to America to be repaired."
South Yorkshire Police said it was trying to find the missing logbook, which contains records of maintenance history, but this was "not delaying the aircraft's return to duty".
An NPAS spokesperson said: "NPAS has been providing services to the South Yorkshire area whilst their helicopter is in maintenance."
All police helicopter operations in England and Wales will be run by NPAS by January 2015.
The South Yorkshire force's helicopter was originally meant to be scrapped as part of its introduction.
However, it was retained for use during peak times after criticism from the now disbanded South Yorkshire Police Authority.