Alan Greaves death: Widow forgives church organist killers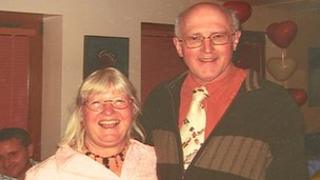 The widow of a church organist who was beaten to death as he walked to Midnight Mass on Christmas Eve has said she forgives the men who killed him.
Alan Greaves suffered "catastrophic" injuries when he was battered with a pick-axe handle in Sheffield on 24 December.
On the night of the attack, the father-of-four had left his home in High Green, where his wife Maureen was with two of their children and twin grandchildren.
The 68-year-old retired social worker was making the short walk to St Saviour's Church to play the organ for the service, something he had done for 40 years.
But Mr Greaves never arrived.
Instead, he crossed the path of two men who had gone out with the purpose of looking for someone to attack.
Ashley Foster, 22, was found guilty of manslaughter in a trial at Sheffield Crown Court.
Jonathan Bowling, also 22, had earlier admitted the killing.
Maureen Greaves said forgiving her husband's killers had been "one of the hardest things" she had done.
"It seems so easy to say I've forgiven them, but it's probably one of the hardest things in my life that I've had to do and yet having done it and repeatedly seeking to do it, I've found I've benefited.
"I've not gone to bed with them on my mind, I've not gone around with shocking feelings over them, I've not gone over and over in my mind the replay of what happened to Alan."
'Earthquake' through family
Mrs Greaves said she hoped both men would find "some sense of true sorrow" for what they had done.
"Perhaps they'll find while they're in prison a journey they can go on where they will be able to think of what they've done and turn away from such things and start leading better lives."
The end of the trial has closed a traumatic chapter for Mrs Greaves by finding those responsible for her husband's death.
She said: "We're going to celebrate the end of the trial, we're going to celebrate his life and we're going to have a little cry because we do miss him as a family, not just me."
Mrs Greaves said now the trial had finished, she was faced with a new chapter of "getting down to really face singleness and the months and years ahead".
The couple married in 1972 and dedicated much of their lives to church and community work.
As well as being an organist, Mr Greaves was a lay preacher at St Saviour's Church.
The couple also worked for the Church Army.
Mark Russell, its chief executive, said Mr Greaves' death had been an "earthquake through the whole Church Army family".
"Everyone in Church Army has rallied around Maureen and poured love and prayer and support into her life."
Just weeks before his death, Mr Greaves had helped set up a new food bank project for people in Sheffield.
Mr Russell said: "It seems almost cruel that he worked so hard to ensure everyone else had food on their table at Christmas when he wasn't around to enjoy his own."