Injunction bans former Sheffield hospital demolition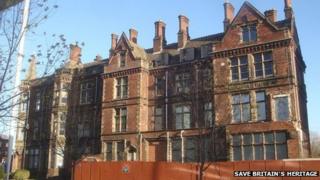 Campaigners fighting to save an Edwardian hospital wing have won an injunction banning its demolition until a possible judicial review is ordered.
Save Britain's Heritage and The Victorian Society want to protect part of Sheffield's former Jessop Hospital.
The University of Sheffield wants to knock it down and build on the site.
A hearing to decide whether to order a review of Sheffield City Council's decision to permit the demolition will be held on Thursday.
Details of the injunction, granted on 17 June, have just been released.
Valerie Bayliss, from the Victorian Society, said: "We continue to hope Sheffield University will consider seriously the options for a more sensitive use of the site that would respect the Grade-II listed building, which is a national asset.
Nick Roscoe of the Save Jessop Hospital Campaign described the injunction as a "positive step".
The University of Sheffield, which owns the site, wants to knock down the wing to build a new £81m engineering department expected to open in 2016.
It was granted permission to demolish the building by the city council last year.
Keith Lilley, Director of Estates and Facilities Management, said the injunction did not "materially affect" the timescale for the planned development.
He added the university welcomed the High Court's consideration of the application for a judicial review, saying: "We are naturally keen to see a resolution of this situation as soon as possible".