Sheffield Business Park government loan criticised by FSB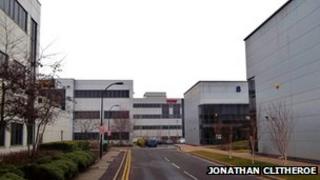 A £1.8m government loan to support the development of Sheffield Business Park has been criticised by the Federation of Small Businesses (FSB).
The park owners plan to turn the runway of the former Sheffield City Airport into offices and industrial units.
Earlier this month they succeeded in a funding bid for a new road and infrastructure work.
But the FSB in South Yorkshire said this was "throwing good money away and putting bad money in its place".
Sheffield Business Park has planning permission for 900,000 sq ft (83,000 square metres) of offices, industrial and distribution units on the site of the runway.
'No real benefit'
FSB regional chairman Gordon Millward said the airport, which closed in April 2008, should be reopened to improve the city's business prospects.
He told BBC Radio Sheffield: "Around the airport site there is a lot of land which would do for enterprise.
"There's still 50 acres left on [the current business park] that hasn't been used, so why dig up a runway - a facility we'll never have again if we get rid of it - for no real benefit."
Mr Millward said the nearest airport, Robin Hood Doncaster Sheffield, was too far away from the city to be useful for businesses.
But James Newman, chairman of the Sheffield City Region Local Enterprise Partnership (LEP), said: "The LEP sees Doncaster-Sheffield Airport as the future of aviation for the Sheffield City Region and we have allocated significant funds to the airport link road to ensure we maximise the airport's substantial economic potential.
"Sheffield City Airport was clearly not commercially viable."