Doncaster CCTV image released after indecent assaults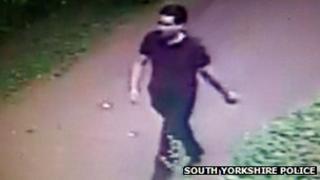 A CCTV image of a man has been released by police after a fifth indecent assault in Doncaster.
On Wednesday, an 11-year-old girl was approached by a man who made comments to the girl and tried to hug and kiss her, police said.
She was able to push him away and run home. A letter about the alleged incident is to be sent to all schools in the South Yorkshire town.
Police said the white man had a suntan, brown hair, and was in his 30s.
He also had a chubby belly and black teeth. He was wearing jeans, black shoes and a burgundy T-shirt and spoke with an English accent.
Supt Pete Norman said: "These crimes are of an exceptionally serious nature and we are concerned that he is targeting very young girls."
Other attacks have taken place in April, May and June, the force said.