Solar Centre abuse: Susan Murphy and James Hinds jailed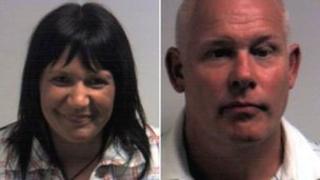 Two care assistants found guilty of mistreating severely disabled patients in their care have been jailed.
James Hinds and Susan Murphy humiliated and assaulted vulnerable adults attending the Solar Centre at St Catherine's Hospital in Doncaster.
A jury had earlier found Hinds, 59, and Murphy, 43, guilty of a total of 25 counts of ill-treating outpatients
Hinds and Murphy were each given jail sentences of two years and nine months at Sheffield Crown Court.
At their trial in Sheffield in May, Hinds and Murphy were found guilty of ill-treating 12 different outpatients between them at the centre.
Hinds was acquitted of a further nine charges and Murphy was cleared on five counts.
Vulnerable adults
Care assistant Julie Burge, 48, and physiotherapy assistant Michael Barnard, 50, were cleared of all charges.
All those abused were extremely vulnerable adults with limited communication abilities and a range of physical disabilities including blindness.
Many of the attacks involved patients being slapped and hit around the head.
Hinds threw one man into a wheelchair, dragged another to the toilet and hit another with a microphone, a jury heard.
Murphy locked one woman in a cupboard, the court was told.
The attacks happened between January 2005 and March 2007.
Police were called in after a member of staff left in March 2007 and made formal allegations about the mistreatment of patients.
'Very betrayed'
Passing sentence, Judge Rosalind Coe told Hinds he had used "heartless, unkind and unacceptable violence".
"You used violence, rough treatment, intimidation to frighten and control service users so they were less likely to display challenging behaviour in your presence," she said.
Judge Coe said the victims were severely disabled and in no position to defend themselves.
"It is hard to imagine more vulnerable people. They were all dependent on you," she said.
Speaking outside court, Sheila Mountain, whose daughter Carla was slapped by Murphy at the Solar Centre, said: "You can't believe anyone in a caring profession could do this kind of thing."
"I just feel hurt and very betrayed," she added.
Following the sentencing, a spokesman from Rotherham, Doncaster and South Humber NHS Foundation Trust (RDaSH), which runs the Solar Centre, apologised for the actions of Hinds and Murphy.
"We will not tolerate staff mistreating service users," he said.
Since the pair's abuse had been revealed, the trust had "reinforced" its communication channels to ensure staff, users and carers could report suspected abuse, he added.