Lorna Vickerage disappearance: Suspect John Bush has fraud convictions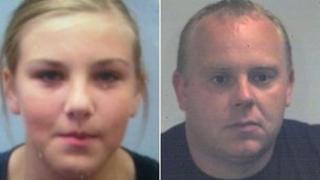 A 35-year-old man suspected of abducting a 14-year-old girl is a convicted fraudster, police have said.
Lorna Vickerage, from Doncaster in South Yorkshire, was last seen on Monday at Outwood Academy in Adwick.
The teenager is thought to be with family friend John Bush, who has previous convictions for fraud offences, said police.
Detectives say they are not clear of his motives though Lorna is not believed to be in danger.
South Yorkshire Police said a second man has been arrested in connection with the investigation.
Det Ch Insp Craig Robinson said the last sighting of the teenager with Mr Bush, who comes from Doncaster, was at 10:15 BST on Wednesday in the Highfields area of the town.
"At that time she was introduced to a local couple by John as his daughter. Lorna appeared to be safe and well and chatty," he said.
He said Bush is a single man with no family who has no history of similar offences, although he does have a fraud conviction.
"She is with a man three times her age who has no parental responsibility for her at all. He should not be with her," said Mr Robinson.
"We need her back safely and we need to speak to John."
Mr Bush was described as a "professional fraudster" by a judge who gave him a 14-month prison sentence suspended for two years earlier this year on condition that he did 200 hours of unpaid work.
York Crown Court heard how he had committed a range of frauds including persuading garages to give him courtesy cars he never returned and using a holiday cottage without paying.
The judge was told Mr Bush had a number of convictions for dishonesty. His lawyer said he had been homeless at the time of the frauds and had been in a relationship with a drug addict.
The South Yorkshire force is liaising with the teenager's mother, Christine, Mr Robinson added.
Mr Robinson said: "Lorna, you're not in trouble. Your mum's petrified, she's worried to death, we're concerned for your safety.
"We don't know why you've gone with John and we don't know why John's taken you."
She is described as white, slim, about 5ft 4in tall with long, straight, thick blonde hair.
She was last seen wearing dark-coloured skinny jeans and a grey top.
Mr Bush is described as white and stocky with receding dark blonde hair. He drives a silver Ford Mondeo with the registration number Y753CSH.
Anyone with information about the pair's whereabouts is urged to call 101.