Sheffield ski centre fire: Two teenagers charged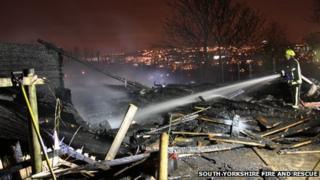 Two teenage boys have been charged with arson following a fire at the Sheffield Ski Village.
A shed and two outbuildings were badly damaged in the blaze on 24 April, a year after the Vale Road site's main building was destroyed by fire.
The boys, aged 15 and 16, are charged with arson in relation to the latest incident, South Yorkshire Police said.
They have been released on bail and are due to appear at Sheffield Youth Court later this month.