Stocksbridge Leisure Centre taken over by community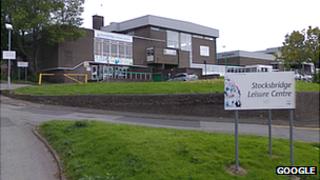 A Sheffield leisure centre that was closed despite local opposition is to be taken over by the community and partly reopened.
Stocksbridge Leisure Centre was shut in April as part of a £50m programme of cuts by Sheffield City Council.
A joint statement by the council and local campaign group 4SLC said a "constructive and progressive" deal to reopen the site had been reached.
A judicial review of the closure had also been withdrawn, they added.
As part of the new deal, Sheffield City Council would offer some initial financial support to the centre, the statement said.
'Viable and affordable'
The council warned in January it was to end its £400,000-a-year subsidy to Stocksbridge Leisure Centre in March.
While campaigners won a reprieve to keep the centre open for an extra month to allow 4SLC to formulate a business plan to secure its future, it was finally mothballed on 30 April.
A petition against the closure had earlier attracted about 1,500 signatures.
As part of the new deal to partially reopen the centre, Sheffield City Council and 4SLC said work on developing a "viable and affordable" business plan with the community would now be the priority.
Emma Gregory, chair of 4SLC, said campaigners were delighted a solution had been found that meant the centre could be brought under community control.
Isobel Bowler, Sheffield City Council's cabinet member for culture, sport and leisure, said the council was "fully committed" to working with 4SLC and Stocksbridge Town Council to develop the site.