'Restaurant' proposal for Sheffield libraries at risk of closure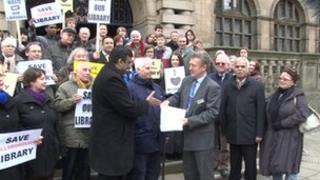 Restaurants or bars could be opened in some of Sheffield's libraries to help keep them open, under proposals put forward by businesses and volunteers.
The Labour-run council said up to 14 libraries could close as it is cutting the service's budget by £1.6m.
Councillor Mazher Iqbal said 27 organisations and individuals were interested in taking them over.
But campaigner Annette Hobson said volunteer-run libraries were not "sustainable over the long term".
Mr Iqbal said 18 of the registrations of interest had been from voluntary organisations, six from individuals, two from the business community and one from a parish council.
"We've had approaches to have libraries used as digital media centres, internet cafes, job clubs, for art and design classes. We've even had a registration of interest looking at a restaurant or bar, but ensuring that the library opens a lot longer than it's currently open," he said.
The council has not identified which of the city's 28 libraries could close.
Ms Hobson, from the campaign group Walkley Against Library Closures, said the authority should continue to run them all.
"We think ultimately we will lose our community libraries into the hands of people who don't have a statute and responsibility to provide [services].
"Gradually, with volunteers, as well meaning and talented as they are, enthusiasm will wind down and the system isn't sustainable over the long term."
In March, 10,000 people signed a petition against the potential closures.
Mr Iqbal said the 27 proposals would now be examined, and a decision would be made in the autumn.