Rotherham's £21.9m wind farm is switched on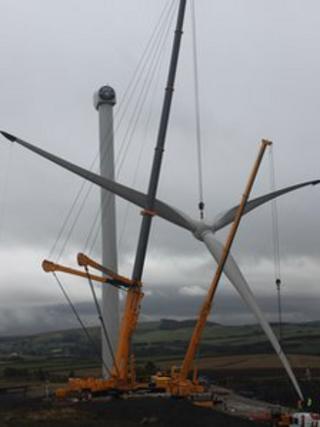 A new £21.9m wind farm near Rotherham, South Yorkshire, has been switched on.
The six turbines on land at Penny Hill Lane, near Ulley Dam, will generate enough power for 12,000 homes, developer Banks Renewables said.
Councillors approved planning for the wind farm in 2010 despite opposition from residents. They argued it would ruin the skyline and be detrimental to the newly-reinforced dam.
Banks said the wind farm would help meet local and national energy targets.
Phil Dyke, development director at Banks Renewables, said: "The latest Department of Energy and Climate Change figures shows that wind power generated 5.5% of the UK's electricity needs in 2012, compared to 4% in 2011.
"But there is an increasingly pressing need for us to generate substantially more of the energy we all use from such indigenous renewable sources."
Banks said in a statement that a £500,000 fund had been set up to deliver environmental projects for the community.
The project will run for 25 years.