Sheffield councillors back Don Valley Stadium demolition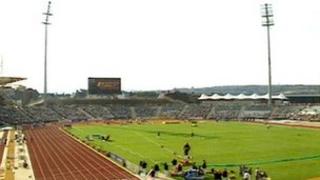 Sheffield City Council has confirmed that Don Valley Stadium - where Team GB Olympic gold medallist Jessica Ennis trains - will be demolished after it closes on 30 September.
Councillors agreed the plan at a cabinet meeting on Wednesday.
The 25,000-seat stadium was built for the 1991 World Student Games, at a cost of £29m.
Ennis has said she would support plans for a £300,000 revamp of the smaller Woodbourn Road Athletics Stadium.
The city council said it had spent £700,000 on the Don Valley site in 2012-13 and this was unsustainable as it was running at a loss.
It said it hoped the refurbishment of the Woodbourn Road facility - which closed in 2011 to save money - would be completed before the stadium's closure.
Plans to demolish Don Valley Stadium were first uncovered in January when the BBC saw a document stating the council could save £500,000 per year if it was to close.
The council has previously said it will reconsider if "an affordable and sustainable solution" is found to retain the stadium before the date set.
Its decision to close and demolish Don Valley stadium was made after a report said that, despite concerns about losing such a major sports facility, alternative closures would be worse in terms of the impact on sports participation and health.
The report said: "To achieve the same level of saving as closing Don Valley, the city would have to consider the alternative closure of several community pools with a loss in participation many times greater."