Miners march to mark closure of Maltby Colliery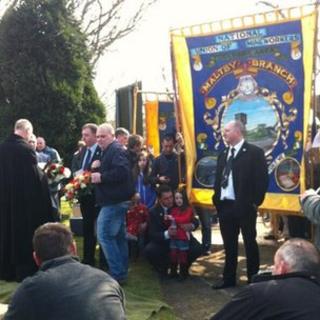 Hundreds of miners have marched through a South Yorkshire town to mark the end of coal mining there.
Maltby Colliery, one of the last deep mines in England, was closed as owners Hargreaves Services said it was no longer viable.
The Maltby Miners Welfare band led a parade through the town to a cemetery, where two wreaths were laid and a lump of coal buried.
MP Kevin Barron, who used to work at the pit, said it was a "sad day".
The National Union of Mineworkers (NUM) said about 250 people were now out of work, while 150 had been redeployed.
Paul Arthur from the NUM said: "A lot of the men have worked there for 20 or 30 years, and thought they would see out their working lives here."
'Unusual geological conditions'
Mr Barron, Labour MP for Rother Valley, said: "If there are safety problems down there the first ones who wouldn't want to go down are the miners themselves.
"Quite a lot of them I understand have got transfers to Hatfield Colliery, which is now the only remaining deep mine in South Yorkshire."
The pit produced coal for more than 100 years. When Hargreaves Services bought the colliery from UK Coal in 2007, mining was expected to continue until 2015.
In May 2012 the company said "unusual geological conditions" had emerged, with excess levels of water, gas and oil.
Work to seal off the mine is expected to be completed in 10 weeks.