Frontline hospital jobs in Rotherham are 'fairly safe'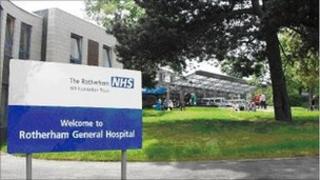 The consultant brought in to turn around Rotherham hospital has said frontline staff are "fairly safe" under plans to save £26m within three years.
Mike Morgan, interim chief executive of Rotherham NHS Foundation Trust, said up to 40 people were facing redundancy in an initial wave of cuts.
However, he said nurses, doctors, porters and domestic staff would not be immediately affected.
He added the trust was also in the process of recruiting 100 new nurses.
Mr Morgan, who replaced Matthew Lowry as interim chief executive in February, said jobs would be lost in the "corporate overhead of the organisation".
Patient volume
He said: "We've tried to look at the issues that are the furthest away from patient care that we possibly can.
"Porters, nurses, doctors, at this point in time, and based on the number of patients we have in the organisation - you won't be losing those people.
"Those jobs will be fairly safe unless we get to a point where the patient volume is less in the organisation, then you can make some reductions there."
Staff affected by the proposed cuts will be predominantly office based.
In October, the trust said it was proposing to cut 750 jobs to save £50m by 2015 after NHS watchdog Monitor called for action to tackle huge financial problems.
In the newly-published summary of its proposed recovery plan, the trust said it hoped to save £26m by the end of the 2015 financial year.
Sarah Champion, MP for Rotherham, said the plan looked "positive" but further information was needed.
She said: "The devil is always in the detail and, until I see the details and until I get the reassurances that there are not going to be further cuts happening, I do not think that we can just relax about this."