Sheffield Jessop Hospital wing demolition approved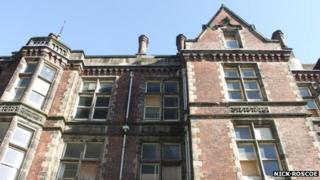 The Edwardian wing of a former hospital in Sheffield is to be knocked down to make way for a new £81m university engineering department.
Campaigners had been trying to save the Grade II-listed extension to the former Jessop Hospital.
They said it was an "absolute disgrace" the communities secretary had decided not to call in the planning application for further review.
The University of Sheffield said it now hoped to open the building by 2016.
The Victorian Society and the Hallamshire Historic Buildings Society (HHBS) were among groups arguing that the wing should be saved.
'Source of pride'
Howard Greaves, from the HHBS, said: "It's a very, very sad day for Sheffield.
"This could set a dangerous precedent because any future developer who wants to knock a listed building down can always point to this."
Mr Greaves said he saw no reason why the wing could not have been incorporated into the university's plans.
"It's a lovely building. All they've done really is take the easy way out. It's so much easier to have a clean slate and start again."
The university spent hundreds of thousands of pounds trying to incorporate the Edwardian facade in its plans, but concluded it was not feasible.
Keith Lilley, the university's director of estates, said: "We are extremely pleased that we can now begin to progress this essential new development which is the centrepiece for a £154m investment in our engineering estate, including comprehensive refurbishment and preservation of the Grade II-listed Mappin Building."
He said he believed the new building would be a "source of enormous pride for the city".