Don Valley Stadium closure: Ennis coach warns of 'hefty blow'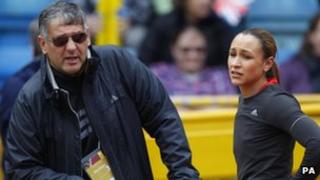 Jessica Ennis's coach says the Olympic champion's hopes of defending her title have been dealt a blow by a decision to close Don Valley Stadium in Sheffield.
Toni Minichiello said athletics was "close to dead" in the city after the council confirmed the closure.
The demolition of the stadium where the heptathlon gold medallist often trains is part of measures to cut £50m from the council's budget.
The Labour-run authority has said it can no longer subsidise the stadium.
'Title blow'
Mr Minichiello, who spoke at the budget meeting, told BBC Radio 5 live afterwards: "I'm gutted and pretty angry to be honest.
"Athletics is pretty close to being dead in Sheffield because of this decision.
"We're going to be all right for this coming season because it's open, but any sort of move towards the next Olympic games and retaining Jess's title has been dealt a hefty, hefty blow."
He added the decision would not just affect one athlete but also hundreds of children in the area who had been inspired by the London Olympics.
"They have got no future because when Jess started she had the Don Valley stadium where, yes, we could train outdoors but there was also a smaller indoor area which we could use that made us fairly weatherproof," he said.
The council said it spent £700,000 on the arena in 2012-13 and was subsidising every visit to it by more than £5.
Councillor Bryan lodge, cabinet member for finance, said: "It is with a very heavy heart that we have arrived at this decision, but we are having to take out £50m from our budget for the next year on top of what has already been saved and it isn't getting any easier."
The council has said it will refurbish and reopen the smaller Woodburn Road Athletics Stadium, but Mr Minichiello described that solution as "pathetic".