Live shells handled at Doncaster Robin Hood Airport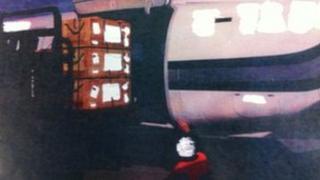 Safety failures at an airport led to officials tampering with anti-tank ammunition which could have detonated at the site.
The BBC has obtained an investigation report by the Health and Safety Executive into the incident at Doncaster Robin Hood Airport in 2009.
A customs official balanced the shell on his knee close to a runway while aircraft operated.
The UK Border Agency said it had learned lessons from the incident.
The report says at least 10 airport workers, customs officials and pilots were within the blast radius of the shell and could have been seriously injured.
Ballistic testing
The officials were told the ammunition was explosive and could not be approached to within 100m.
In response to a Freedom of Information request, from the BBC, the Health and Safety Executive (HSE) has provided further details of the incident on 10 November 2009.
The cargo of as many as 10 tank shells, which were being transported on a plane operated by a company called Skydrift, was examined beside the aircraft at an engine test bed 500m from the main terminal buildings.
The investigation report says the weapons were destined initially for an RAF base, before being sent to an army firing range for ballistic testing.
The report says: "Two crates were broken open and ammunition removed from their protective packaging cases in close proximity to a runway/taxiway whilst flight operations continued.
"The live ammunition was examined whilst being balanced on the legs of one operative.
"A commercial passenger flight was landed whilst the examination was in the process of being carried out and several people were in close proximity."
Training requirement
It said that the UKBA official who inspected the ammunition "received no formal training by UKBA on handling explosives."
He had previously worked for the Royal Navy and been trained in explosives, but the report concludes that "it is unlikely that his naval training will have covered the handling of this type of weapon ammunition."
The report concluded that "no further ammunition flights are to be examined until such times as operatives are trained and an effective procedure is devised."
A UK Border Agency spokesperson said: "We deeply regret this incident.
"As acknowledged by the Health and Safety Executive, we have already made significant changes to the way we manage health and safety to avoid a similar incident occurring in the future."