South Yorkshire landslip rail line closed for weeks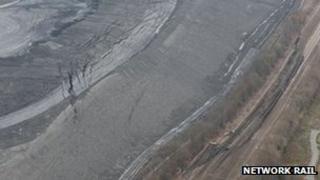 Train services between Doncaster, Scunthorpe and Cleethorpes will be suspended for at least eight weeks after a landslip, Network Rail said.
It said an "enormous" spoil heap at Hatfield Colliery at Stainforth, South Yorkshire was "pushing up the track".
The landslip lifted a section of railway track and is still moving.
Buses will replace trains between Doncaster and Scunthorpe and an amended timetable will run until the heap is stabilised and the track repaired.
Extremely unstable
Rachel Lowe from Network Rail said: "This is an absolutely enormous task. We will have to re-lay the whole area.
"Our engineers have been at Hatfield Colliery throughout this event and are dealing with their experts. They obviously have to stop this movement before we can do anything about restoring the railway."
Network Rail engineers have not been permitted to start work on the site but an initial estimate said the line would be shut for about eight weeks once the land stops moving.
Hargreaves Services, which runs the colliery, said a team of engineers was assessing the situation.
Nick Donovan, managing director of First TransPennine Express, said the ground remained extremely unstable and advised customers to check before travelling.