Rotherham NHS Trust loses money in email scam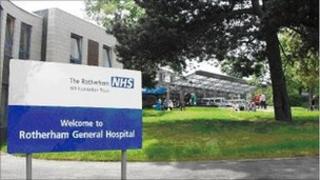 Rotherham NHS Trust in South Yorkshire has admitted it lost more than £680,000 in an email fraud.
Peter Lee, chairman of the trust's board of directors, said it was trying to recover the money which he claimed was lost in a "sophisticated scam."
The announcement comes the day after the trust said it was appointing management consultants in an attempt to deal with its financial problems.
The trust needs to save £50m by 2015.
Mr Lee said the fraudsters were based overseas, but refused to give any details of the scam due to what he said was possible legal action.
He said: "The trust has its own systems and protection to protect it from this very type of scam.
"Unfortunately, it was a very, very sophisticated scam and we did lose funds last year."
'Very concerned'
Mr Lee also defended the introduction of specialist health management firm Bolt Partners "to lead the recovery and restructure of the trust".
US healthcare consultant Michael Morgan has been appointed interim chief executive of the trust as part of the deal.
"I can't say that with public funds it doesn't matter what it costs," said Mr Lee.
"We are very concerned to get the best people to fix what we need fixing in Rotherham.
"The executive have to run the hospital, provide the services in the hospital and the community.
"We need to have people running alongside who can create the recovery plan that we have to create not only to satisfy the trust but also our regulator."
Pam Johnson, Unison union head of health for Yorkshire and Humberside, said she was concerned about the lack of transparency over the appointment of the consultancy firm.
She said: "There are lots of questions to be asked yet about what that is costing and where the money is coming from."