Duck shot with crossbow bolt at Dearne Valley park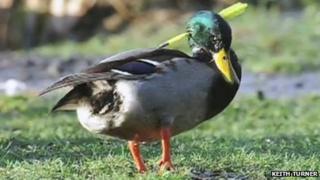 The RSPCA is investigating after a duck was seen in a country park with a crossbow bolt through its head.
Barnsley Council reported the incident after the mallard was spotted at Dearne Valley Country Park in Barnsley.
The organisation said officers had attempted to catch the duck without success but were continuing to monitor it.
Anyone convicted of shooting the animal could face a six-month prison sentence and a £5,000 fine, the RSPCA said.
A spokeswoman said: "Obviously as the duck is still able to fly and quite mobile it has been difficult for our officers to catch it but we are continuing to monitor it and hope to catch it eventually."
She added the animal appeared able to still feed itself but officers wanted to treat it before it came to any further harm.
Officers believe the bolt may have entered the duck's head through the ear canal.
The RSPCA urged anyone who had witnessed the shooting to contact officers.