Stocksbridge Leisure Centre campaigners win reprieve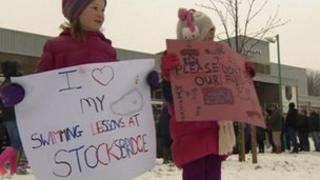 Campaigners hoping to keep a Sheffield leisure centre open have got an extra month to build a business plan.
The city council had planned to end Stocksbridge Leisure Centre's £400,000 subsidy in March, but said it would fund it until the end of April.
It comes after up to 500 people held a protest, and a petition calling for the closure plan to be scrapped got more than 1000 signatures.
The council said it has to save £50m from its 2013-2014 budget.
Other proposals include the closure of the Don Valley Stadium and libraries.
'Tooth and nail'
Councillor Isobel Bowler, cabinet member for culture, sport and leisure, said: "We are unable to find the money for a further full year subsidy but we are able to make the offer of an additional month's funding to allow (Stocksbridge) Town Council explore options to keep the leisure centre open."
Sheffield City Council said Stocksbridge is expensive to run and has falling visitor numbers.
Angela Naylor, who works at the centre, backs the campaign to save it.
She said: "If the feeling within the community is anything to go by they will fight tooth and nail right to the bitter end to pull this together.
"There's more than 500 children having swimming lessons there and without any direct transport links to other facilities it would be very difficult for them to go for their swimming lessons elsewhere."
The operator of the centre, Sheffield International Venues (SIV), has begun a consultation with customers, and said services would "continue as normal" until a decision is made about its future.