Snow closes nearly 300 schools in South Yorkshire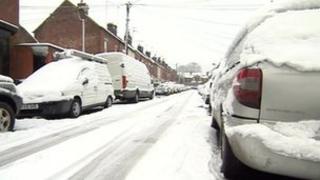 About 290 schools have been closed and flights have been delayed in South Yorkshire after up to 5cm (2in) of snow fell overnight.
The Met Office said the snow would continue throughout the day with a yellow weather warning for parts of the county, with up to 10cm (4in) forecast.
Robin Hood Airport near Doncaster was closed for several hours due to snow, but flights have now begun again.
The A628 Woodhead Pass has also re-opened after earlier being blocked.
Sub-zero temperatures
Windy conditions could lead to blizzards, and sub-zero temperatures meant ice could be a hazard, the Met Office added.
South Yorkshire Passenger Transport Executive said while the county's trams and trains were generally running normally, buses were keeping to main routes.
Gritting crews in Sheffield were concentrating on main roads and public transport routes after having worked throughout the night, Sheffield Council said.
Monday's household rubbish collections in the city had been cancelled with all collections now set to take place one day later than usual.
Rotherham Council said 20 teams - 50 people in all - had been hand-spreading salt around schools, sheltered housing complexes and shopping areas.
Outpatient appointments at hospitals in Sheffield and Barnsley have also been affected by the snow, with the cancellation of non-urgent patient transport services.
Chris Morley, deputy chief nurse at Sheffield Teaching Hospitals, said: "We've been told by Yorkshire Ambulance Service that they are only undertaking essential journeys.
"There will not be any non-urgent transport provided for people coming to routine outpatient appointments by ambulance."
'Really treacherous'
Speaking to BBC Radio Sheffield, Christine, who works at Northern General Hospital in Sheffield, said she had been forced to take the day off due to the snow.
She said: "I walked up my road and there's just so much snow. There's been a good 10 inches. It's like being cut off and it's really treacherous. I slipped three times."
Alan in Bramley told BBC Radio Sheffield he wanted to thank Rotherham Council workers for their help after a family funeral was put at risk by the snow.
"I rang them on the off-chance and they have already cleared all the snow in front of the house where the funeral is going from," he said.
"They have chucked rock salt down all the roads and the access roads. Fair play to them."