Talib Hussain and Rahina Zaman jailed over sham weddings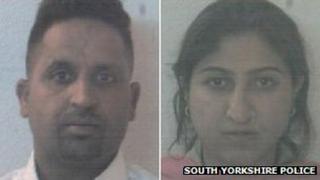 A man who ran a huge international sham marriage operation from South Yorkshire has been jailed for six years.
Talib Hussain, 42, organised bogus weddings between Eastern European women and Pakistani men, who could then apply to live in the UK under EU border laws.
He was helped by his ex-wife Rahina Zaman, who was jailed for two-and-a-half years at Sheffield Crown Court.
The couple admitted running a "very large, professional operation" from his suburban semi in Rotherham.
Hussain, a Pakistani national, and Zaman, who is British, admitted conspiracy to assist unlawful immigration.
Judge Rosalind Coe QC said Hussain was the "hub" of the operation and his house on Broom Grove, Rotherham, was the "engine room".
Clothes swapped
The court was told that more than 60 applications for UK visas were submitted to authorities, accompanied by fake documents and photos of the bogus weddings.
But the UK Border Agency became suspicious when they noticed the same people appeared in many of the photos and the same clothes were being swapped between brides, grooms and guests to make the pictures look genuine.
Sarah Wright, prosecuting, said that by marrying women from the Czech Republic, Slovakia and Britain, the Asian men would have been eligible to move to Europe, and subsequently apply to live in the UK.
Ms Wright said: "This was a huge, well-organised and professional operation.
"At the very hub of this conspiracy and running the operation was Talib Hussain, assisted by other offenders including his wife, Rahina Zaman."
Thousands of documents were found when Hussain's house was searched, proving it was the "control centre" for a massive network of fake brides and minders who accompanied them on flights to Pakistan, she added.
The judge also sentenced 16 others involved in the operation.
One received a seven-month sentence, suspended for one year, while the others were jailed for between six months and four years.
They had been found guilty of assisting or conspiracy to assist unlawful immigration.