South Yorkshire prepared for days of snow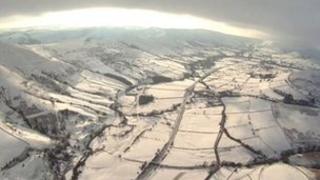 Snow is expected to fall across South Yorkshire on Friday and continue for several days, the Met Office said.
A severe weather warning has been issued with sleet and snow showers becoming more widespread in the afternoon.
A bitterly cold south-easterly wind will develop during the day.
Barnsley Council said it would be gritting for the fourth evening in a row, and had provided "winter survival kits" to vulnerable people.
The East Coast train company has advised passengers to check before travelling. The company said it would lift ticket restrictions for all journeys on its trains which arrive in, or depart from, King's Cross station in London after 10:00 GMT.
Survival kits
East Coast urged passengers wherever possible to travel before 18:00 on Friday, as heavier snowfalls were predicted after that time.
The Yorkshire Ambulance Service said it had plans in place to operate in "adverse conditions".
The service's deputy director of operations, David Williams, said: "Our staff will be working extremely hard... but understandably hazardous driving conditions may mean it might take us a little longer than normal to reach patients in the worst-hit areas.
"We ask that the public also make their own plans to ensure they don't need to call us unnecessarily for assistance."
Barnsley Council said the survival kits, containing items including blankets, porridge oats, and an alarm to alert people when a room gets too cold, were available from community and voluntary organisations in the town.
The Highways Agency has urged drivers to take extra care.