Sheffield Man of Steel sculpture model unveiled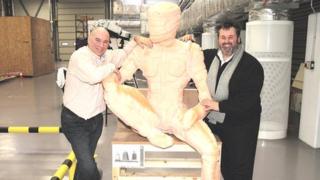 A model of a huge steel sculpture planned for a site next to the M1 in South Yorkshire has been unveiled.
The Man of Steel sculpture - a figure sitting casually on a steel plinth - is expected to be one-and-a-half times taller than the Angel of the North.
Designed by artist Steve Mehdi, the 6.5ft (2m) model was made at Sheffield University and is due to go on show in Rotherham and Sheffield.
The 125ft (38m) Man of Steel sculpture is expected to be completed by 2015.
'Honours past'
Rotherham Council gave planning approval for the artwork in August 2012.
The sculpture, which the artist hopes will be privately funded, and cost about £2.5m, will be built on a site in Kimberworth and be visible from the M1 Tinsley viaduct, between Sheffield and Rotherham.
Mr Mehdi, a former steelworker, said the artwork was inspired by, and a tribute to, all the men and women who had worked in the coal and steel industries in South Yorkshire.
"This project honours the past and embraces the future, bringing together the heritage of the old industries and signposting the new technologies of the Sheffield region," he said.
The model is made of polyurethane resin board which is normally used for creating models for the motor and aviation industries.
The figure will be exhibited at Sheffield University during celebrations to mark the centenary of the discovery of stainless steel by Sheffield metallurgist Harry Brearley.