Sheffield Council cuts will lead to 'massive change'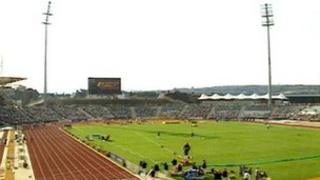 A raft of cuts announced by Sheffield Council in its new budget will lead to "massive changes in the city", the authority's leader said.
Don Valley Stadium, where Olympian Jessica Ennis trains, is to be demolished as part of proposals to save £50m from its 2013-2014 budget.
Sheffield Hallam MP Nick Clegg said it was a "tragedy" and accused the Labour council of scaremongering.
Council leader Julie Dore said the cuts were going "further and deeper".
Ms Dore said: "The government is completely detached from reality and out of touch.
"They have no idea what these £50m of spending cuts will do to Sheffield.
"These budget proposals will lead to massive changes for the city."
But Mr Clegg said: "What I don't understand is why Labour are taking this slash and burn approach when they've got over £160m of usable reserves in their accounts, they under spent last year in their budget by over £6m... they're still wanting to spend £2m refurbishing their own perfectly good town hall meeting rooms.
"This is a time of choices and a time of priorities and I think it's high time that Labour in Sheffield stop constantly pointing the finger of blame at everybody else and start answering for their own decisions in Sheffield."
Sheffield City Council has disputed the figures quoted by Mr Clegg, and said the available reserves were £11m ,while £1m is to be spent on "essential maintenance and repairs" to the town hall.
Libraries threatened
The council said demolishing the Don Valley stadium would save £700,000 a year and allow the authority to avoid having to invest the £1.6m required over the coming years.
It is proposing to reopen and refurbish Woodbourn Road stadium, which would serve as the city's main outdoor athletics arena.
Stocksbridge Leisure Centre will also close and £10.5m will be cut from care for the elderly and vulnerable.
Other cost-cutting measures include closing 14 of the city's 27 libraries unless volunteers come forward to keep them open and cutting the budgets for Museums Sheffield, Sheffield Theatres, the Site Gallery and the Showroom cinema.
The council said it would continue to fund city centre based events but would cut the budget by 25% to a number of events including the Tramlines festival and Christmas lights.
Changes are also being proposed to parking, with prices cut in some areas to attract more drivers and charges extended in other parts of the city to include evenings and Sundays.
Councillor Bryan Lodge, cabinet member for finance, said closing Don Valley would allow the council to protect other services.
'Unfair cuts'
The authority was facing making £50m of cuts in 2013-14 on top of £140m cuts already made in the last two years, he confirmed.
"If there's any comfort we will try and reduce the impact," he said.
"It's very difficult and not everyone will accept the decision we make but I hope people understand the rationale.
"Unfair cuts mean we have to make some huge savings across Sheffield."
Sheffield councillors have until 4 March to finalise the city's budget.