Thorpe Hesley coal reclamation plan approved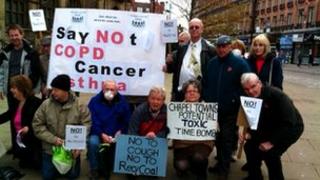 Plans for hundreds of thousands of tonnes of coal to be reclaimed from a mining waste site have been approved.
Residents in Thorpe Hesley, near Rotherham, objected to the reopening of the Hesley Wood site amid fears coal dust may harm their health.
The firm behind the project, RecyCoal said the scheme would enhance the area and create jobs.
Sheffield council, which approved the plan, said it had conducted a detailed assessment of health concerns.
RecyCoal plans to reclaim 395,000 tonnes of coal stocks abandoned as spoil from a former colliery.
The firm said it would create 35 jobs for the three-year operation.
'Health risks'
Members of the Cowley Residents Action Group (Crag), who opposed the scheme, said they had gathered more than 5,000 signatures on a petition.
Jean Howe, chairwoman of the action group, said the campaigners had raised concerns over the possible health impact of dust created by the process.
Ms Howe said: "I just don't know how a council can sleep at night.
"We haven't assessed our options yet, how can they ignore the health risks to local people?
"We have a meeting on Monday and need to look at our options."
A spokesman for RecyCoal said health concerns had been addressed by a planning officer during the application.
The firm's chief executive, Tom Allchurch, said: "Our proposed scheme will create a visually appealing and environmentally enhancing alternative to the spoil heap that currently occupies the site and create much needed jobs and economic activity.
"The site will be reclaimed and restored to public open space providing significantly enhanced biodiversity and an important local recreation resource through the provision of new routes for public access and a potential extension of the existing Trans Pennine Trail.
"The footprint of the proposed scheme covers approximately 50 hectares, including 38 hectares of existing spoil heap.
"Restoration of the site will create new woodland, grassland and wetland habitats. Woodland areas will cover approximately 22 hectares with the planting of over 40,000 trees."
'No health threat'
In a statement, Sheffield City Council said: "We have approved the plans to recover coal from the land at Hesley Wood having undertaken a detailed assessment of the applicant's environmental statement that covers all the key environmental and health impacts of the scheme and mitigation measures.
"We would not accept any plans that would threaten the health of any of our residents.
"As the key impacts had been reviewed and found acceptable and our approach was in accordance with government guidance in the national planning policy framework, there were no grounds on which we could refuse permission."