Rotherham Hospital consultants' bill criticised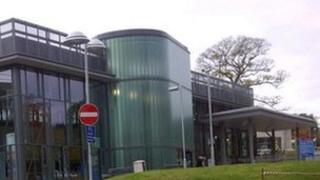 A hospital trust has been criticised for spending almost £3m over three years on external advisers and management consultants.
Figures show Rotherham NHS Foundation Trust spent £2,965,718 from 2009 to the current financial year.
In October, the trust announced it was proposing to cut 750 jobs to save £50m by 2015.
MP John Healey said the consultants' bill was indefensible but the trust said the costs were necessary.
Trade union Unison said its members were shocked and very concerned about the expenditure.
Pam Johnson, the regional head of health at Unison, said: "Our members are outraged by this. They've had two years of pay freeze and are facing job losses and to hear this is really hard to swallow.
"How can that be a good spend on healthcare? What have the managers been doing?"
Mr Healey, former shadow heath secretary and MP for Dearne Valley, said: "Every organisation needs outside expertise from time to time but it's indefensible to spend so much on external advisers when nurses, porters, secretaries and other hospital staff face cuts."
'Invaluable' expertise
The figures, obtained by BBC Radio Sheffield, show in 2009/2010 the trust spent £296,777 on the external positions.
In 2010/2011 that figure was £504,606 and rose to £1,249,669 in 2011/2012.
So far into 2012/2013, the spend stands at £941,666.
That figure includes payment of £1,500 a day to Tim Bolot, who has been hired temporarily to help improve the trust's finances.
In a statement, the trust said: "Employing external consultants can, on occasions, be necessary to enable the trust to buy in expertise or experience we simply don't have, especially where this expertise is only needed for a time limited basis."
The trust said Mr Bolot's fee was "commensurate with the wealth of experience he possess and with the benefits we believe he will deliver".
The statement added: "Mr Bolot has proven experiences and expertise that will be invaluable to the trust over the coming few months as we further develop our plans for the next two years.
"The quality of these plans and their implementation will be key to enabling the trust to manage its finances and maintain the quality of its services."