Organist Alan Greaves murder: Wife speaks of her grief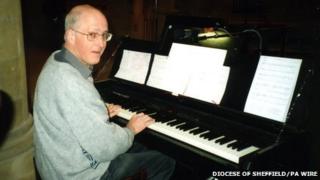 The wife of an organist who died after being attacked on Christmas Eve said she had "not stopped crying" over the "evil" that had been done.
Alan Greaves, 68, of High Green, Sheffield, died on Thursday after sustaining severe head injuries while walking to church for Midnight Mass.
Maureen Greaves spoke of her grief at a service at St Saviour's Mortomley and High Green Church.
Two men arrested on suspicion of murder have been released on bail.
They were bailed on Sunday afternoon, pending further enquiries. South Yorkshire Police said one was in his 20s and the other in his 40s.
'Longs for justice'
Mr Greaves' family were joined at the service by the Bishop of Sheffield, Dr Steven Croft.
During it, Mrs Greaves told the congregation: "I won't be able to contact you over the next few days, but I want to thank you for the support you have given me.
"I have prayed constantly for Alan and I know you have too. I have not stopped crying for him and I know you have not stopped either.
"I have wept over the evil that has been done. I have prayed for you and I know you have prayed for me. You were Alan's Christian family and he loved belonging to this church. I have felt your love towards me."
Dr Croft spoke of Mr Greaves' deep Christian faith and the sense of shock at his death.
"There will be immense grief for those who knew Alan well, which includes many in this church and community. There will be fear that such a thing could happen, apparently to anyone.
"There will be anger and all kinds of questions and real pain in our hearts today," he said.
'Gentle giant'
He also paid tribute to Mrs Greaves: "Maureen has said very clearly and powerfully that she longs for justice not for vengeance, again bearing witness to her own deep faith in the midst of the sharpest agony of her life."
The vicar at St Saviour's, the Reverend Canon Simon Bessant, had worked closely with Mr and Mrs Greaves.
He described the killing as a "random" act of "senseless violence".
He said Mr Greaves was well-respected within the community, a comment reflected in the bishop's sermon.
Dr Croft said: "Simon has referred to Alan this week quite simply as a good man, a gentle giant. Goodness is not as common as it should be and this community and this city have lost a shining light."
Mr Greaves, a father-of-four, was found on a pavement near his home on Greengate Lane with a head injury at about 23:15 GMT on Monday.
He had been making his way to St Saviour's Church to play the organ at the Midnight Mass service.