Alan Greaves murder probe after Christmas Eve attack in Sheffield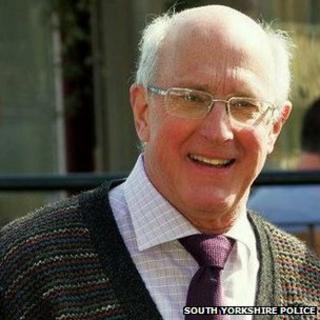 A church organist and lay preacher has died after being attacked on his way to Midnight Mass on Christmas Eve.
The death of Alan Greaves, 68, of High Green, Sheffield is being treated as murder by South Yorkshire Police.
The father-of-four was found on a pavement near his home on Greengate Lane with a head injury at about 23:15 GMT on Monday.
He died on Thursday evening after being treated at the city's Northern General Hospital, police said.
Detectives said the motive was not yet known but, based on the injuries Mr Greaves suffered, it was likely that a weapon had been used.
Reverend Canon Simon Bessant from St Saviour's Church, who worked closely with Mr Greaves and his wife Maureen, a church community worker, said: "He was a good man and this was an evil act."
'He never arrived'
Mr Greaves had been making his way to the church as he was due to play the organ at a special communion service.
Mr Bessant said: "He never arrived, which we thought was strange.
"Sadly, he was attacked about 250 yards from the church. His family were all at home and the police contacted them at about midnight to say there has been an accident.
"I spent most of Christmas Day with him and the family. They have a strong faith but that doesn't mean you don't feel the difficulty.
"It was a hard vigil by his bedside, watching him struggle.
"His wife wants justice but she doesn't want vengeance. She is not embittered but obviously she wants this person to be caught."
Det Supt Matt Fenwick, senior investigating officer in the case, said: "Mr Greaves appears to have suffered a brutal attack after leaving his home address to attend Midnight Mass. At this stage, the motive is unclear.
"I want to hear from anyone who witnessed the incident. If you know who did this, please come forward and offer your support to the family at this difficult time."
Mr Bessant said the community was "deeply shocked and traumatised by the news".
He said: "This is a man who led his professional life in Sheffield as a social worker. He and his wife worked in children's work. He has given himself to the community.
"He was very much a gentle giant. I can't find any other better word to describe Alan other than to say he is a good man.
"There is no sense of understanding of why or how such a thing should happen."