Burglars target Arthur Scargill's house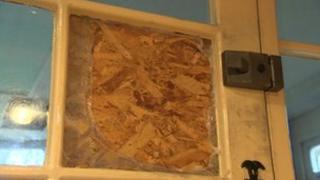 A house owned by former miners' union president Arthur Scargill has been burgled, police say.
Officers went to the property in Worsbrough, near Barnsley, South Yorkshire on Wednesday night after an alarm was activated.
The suspects had already left and nothing of value was stolen.
Mr Scargill, 74, was president of the National Union of Mineworkers (NUM) until July 2002 and led the union during the 1984-85 miners' strike.
Earlier this month, police said officers found smashed window at the house after the alarm was triggered but there was no sign of forced entry.
Mr Scargill is awaiting judgement at the High Court to fight an attempt by his union to stop paying the cost of his London flat.
It is understood security payments on the Barnsley home will form a part of the judgement expected to be delivered on Friday.
He is fighting an attempt by his union to stop paying various costs.