Maltby miners face Christmas gloom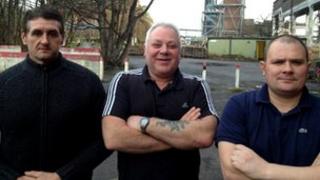 December is supposed to be the month of festive cheer and goodwill, when families come together and celebrate Christmas.
For more than 540 miners in South Yorkshire the news has come that Maltby Colliery will close - news that nobody wants to hear at any time of year.
The deep coal mining industry went into sharp decline in the 1980s and many pits have since closed, but miners say "the news never gets any easier".
Clint Whitehead, 53, who lives Pontefract, has worked in the mining industry since he left school.
Mr Whitehead has been at Maltby Colliery for three years as a development worker, driving tunnels.
He grew up in Sharlston, West Yorkshire, and as a teenager followed in his father's footsteps.
His brothers, uncles and other male relatives all worked at the pit.
"When they announced Sharlston pit was closing, I thought that was the end of my world. I thought I'd never get over it.
"Then I had the exact same feeling when I heard the news [of Maltby Colliery closing]. It's gut-wrenching the thought of it closing.
"You become attached to the people and everybody you work with.
"You feel like a part of you has been taken away.
"The workforce make you feel welcome. It's like a big family and we all look out for each other and became attached."
'Bad time'
Nick Harris from Hucknall, Nottinghamshire, drives more than 60 miles a day to reach work and has worked at the colliery for 12 years.
It has been a difficult month - his mother died on 10 December and now he is to lose his job.
"It's a bad time for me. I've had a bit of a bad time," he said.
"It doesn't get any easier. It's the fact that it's financial - the bit that really hurts is that there is still coal down there that we can get, but due to financial constraints it's put an end to it."
Mr Harris said the leaving date he had been given was 12 April.
However he was now left feeling in "limbo" as he would be unable to leave before that date
"We don't have a clue what to do now. What do you do?"
Dave Price is a development fitter and regional branch secretary for the National Union of Mineworkers.
He said he was warning workers to be more vigilant whilst at work after the news of the closure.
"We've asked the men to be more careful and more aware. It takes your mind off things and we've stressed to the men to be ultra careful."
Mr Price said when Hargreaves Services told the men the colliery would be mothballed the room was "full of emotion".
He has worked at the pit for about two years will finish work on 15 January with about 130 other men.
"My Christmas - I'm going to worry about the 360 members I have, the 542 people who work here and members of other unions on site.
"I'll try and enjoy Christmas the best I can, but knowing on the 7 January I am going to be served with my notice."
Helping to find the redundant miners new jobs is a priority, not only for himself but everybody, Mr Price said.
As the colliery begins to wind down in phases in the new year some workers will continue to plough on.
Mr Whitehead said Christmas was a time to put on a brave face.
"It's hard one - you have to keep your head up and make the most of it for your family.
"If I put my head down at home and get down in the dumps it brings the rest of my family down."