Owners confirm closure of Rotherham coal mine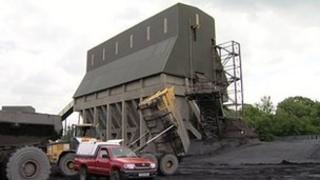 A deep coal pit in South Yorkshire which employs 540 staff will close, its owners have confirmed.
Hargreaves Services said Maltby Colliery, near Rotherham, was no longer viable on safety, geological and financial grounds after producing coal for more than 100 years.
Last month, the company set up a group of staff to look into alternatives to shutting the mine.
The company said the group could find no "viable alternative solution".
The pit will shut by the end of March 2013.
In a statement, the company said it "remains committed to exploring alternative employment opportunities for staff, both within the wider Hargreaves Group and externally".
Dave Price, National Union of Mineworkers branch secretary at Maltby, thanked the company for giving the workers their due redundancy pay.
Mr Price said: "From this moment we now can work and strive to see what employment we can get for the members at Maltby."