Sheffield fire engine in five vehicle black ice crash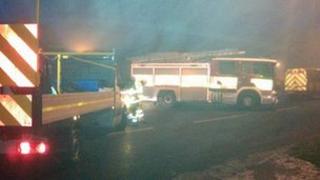 Two emergency vehicles called to help after a car hit a tree ended up crashing on the same patch of black ice in Sheffield.
A fire engine collided with the car on the A6135 Barnsley Road at 04:00 GMT.
Minutes later, a paramedic response vehicle crashed into a lamp-post on the same stretch and two other cars skidded after taking evasive action.
The Yorkshire Ambulance Service said it had received "unprecedented" levels of calls relating to the ice.
South Yorkshire Police said four people received minor injuries in the A6135 crash.
The road was closed between the Deerlands Avenue junction and the B6086 Stubbin Lane junction for seven hours.
Sgt Andrew Whittaker said: "Whilst the fire engine was travelling it lost control on the same stretch of road. It then collided with the car crushing it against the tree and ending up in the middle of the road.
"Subsequently the paramedic vehicle travelling to the same incident again lost control and collided with a lamp-post."
'Freezing rain'
Sgt Whittaker said the road had been gritted but driving conditions across South Yorkshire were poor because of fog and freezing temperatures.
Wayne Southall, from Amey - the contractors responsible for gritting in Sheffield, said: "The conditions were really bad overnight. There have been two problems - we've had rain across the city which has diluted the grit and we've had this freezing rain which just freezes on impact."
Sheffield council said grit supplies were being issued across the city and concerns were being addressed.
The Yorkshire Ambulance Service said it had activated its "major incident plan" to allow special arrangements to be put in place to cope with the surge in demand including cancelling non-essential transport journeys to help with the 999 emergency service.
It urged people to only call 999 when someone had a life-threatening illness or injury.
Dr Alison Walker, executive medical director at the trust, said: "The service has received hundreds of 999 calls for weather-related incidents and we are treating a lot of patients involved in road traffic collisions and injured in slips, trips and falls.
"These calls are in addition to other medical emergencies such as heart attacks and strokes."
Ice and hazardous driving conditions also affected major routes in West and North Yorkshire including the M1, A1 and the M62.