Sheffield children's centre cuts: Protest at council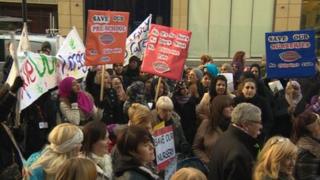 Campaigners have held a protest against job losses and cuts at children's centres in Sheffield.
The city council is reorganising all 36 early years centres into 17 children's centre "areas" in a bid to save £3.5m.
The authority claimed there would be no closures but said the change would lead to the loss of up to 50 jobs.
Staff and parents described the move as a "disgrace" and protested outside the town hall, where councillors discussed the plans at a cabinet meeting.
All 36 Sure Start centres are Ofsted-registered and provide childcare, education, health and family support.
'Absolutely disgraceful'
Chrissy Meleady, from the Shoreham Street Children's Centre, said: "It's absolutely outrageous. We can't believe the extent of the cuts.
"To cut services from March with no funding whatsoever until September and to expect them to survive across the whole of the city, particularly within inner city areas and deprived areas, it's absolutely disgraceful.
"People from other centres are saying they're laying off 30 members of staff in one centre, 40 here, 20 there, so you're talking an accumulative figure that's excessive."
Councillor Jackie Drayton said: "It's about streamlining to save money on management, admin and premises costs as much as we can.
"You can't guarantee services won't be affected or families won't be affected, but we're facing massive cuts... we've got to find £3.5m. We have no more money to pay for childcare."
Ms Drayton said the 17 children's centre areas would be decided after a consultation with parents, carers and staff.