Consultation on Rotherham Hospital job losses postponed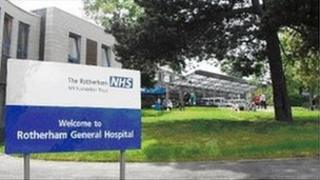 A consultation over 750 proposed redundancies at Rotherham Hospital in South Yorkshire has been postponed.
Rotherham NHS Foundation Trust said last month job losses were necessary to save £50m by 2015 and it was due to begin consulting staff on 3 December.
But the trust said it had now been delayed until next week to review voluntary redundancy applications.
A report presented to the board earlier this year said "compulsory redundancies are inevitable".
Sue Cookman, regional organiser for the union Unison, said: "It feels a bit like bad news put on hold.
"They did tell us that they'd thought about it long and hard and they didn't want to delay the pain up until after Christmas.
"They were due to have sent it out to all staff on 3 December.
"I was surprised and I don't know why they've postponed it. They said they needed some more detail on the form."
The hospital said in a statement that "redundancies (especially compulsory) are a last resort".
"In order to minimise and reduce the need for compulsory redundancy the trust is [examining] all opportunities, such as reviewing previous voluntary redundancy applications," it said.